Albumedix Ltd
Albumedix develops albumin-based products and technologies for advanced drug and vaccine formulation, extended drug half-life and improved drug delivery. Our products and technologies are used in clinical and marketed drugs and out-licensed to pharmaceutical and biotech companies worldwide. With over 25 years' experience in the biopharmaceutical industry, we have the scientific, technical and regulatory expertise needed to support companies in moving faster to market with superior biotherapeutics. We also use this expertise to strengthen our own drug pipeline. Albumedix is a global company and fully owned subsidiary of Novozymes A/S.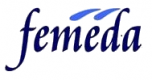 Femeda Ltd
Femeda is a UK based company focused on developing a range technically ground breaking medical devices for female urinary incontinence. 698 million women worldwide are affected by incontinence, yet many existing products focus on managing and treating the symptoms of urinary incontinence, rather than the underlying cause.
Femeda is focused on the launch of Pelviva™, a unique patented disposable medical device for the treatment of female incontinence. Pelviva™, uses reactive pulse technology to strengthen weak pelvic floor muscles to prevent leaks and control urge incontinence. Pelviva™ has been shown to clinically improve bladder control in 84% of women after 12 weeks of treatment.

IAG - Image Analysis Group
IA-Group is a strategic partner to bio-pharmacutical companies. We bring extensive therapeutic knowledge and regulatory expertise in strategic use of clinical imaging to enhance understanding of the mode of action, to increase the efficiency of clinical decisions and to accelerate drug development.
IA's operations team leverage our global footprint and the next-generation cloud based proprietry platform Dynamika to de-risk trial execution and to ensure data quality and integrity. Our venture arm pioneer unique targeted investment and risk-sharing models to enable our clients to reach the next value inflection point faster. We fuse decades of theraputic insight and agile culture to meet today's speed and high standard of therapeutic innovation.