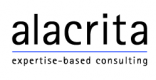 Alacrita
Alacrita is life science consulting for a networked age. You can expect the caliber and capabilities of a top-ranked consulting firm, but you'll find a difference in our expertise. We've built our team carefully, hand-picking only those consultants with deep domain knowledge and senior business experience. With more than 200 successful client assignments each year, we're proving what's possible for commercial life sciences in a new era of opportunity.

Athena Market Access Solutions
Founded in 2016 Athena Market Access Solutions specialises in providing pricing and reimbursement related solutions to organisations in the life sciences industry.

The company is run by Maximilian Lebmeier who has over a decade experience in Global, European and UK/Irish market access roles in the pharmaceutical industry. He has worked on over 130 health technology assessments (HTAs) in a wide range of disease areas including rheumatology, dermatology, cardiology, hepatology, transplantation, infectious diseases, and oncology. Besides of his company duties he has worked intensively with industry associations on market access and HTA related activities.

Athena's services stretch throughout the lifecycle of a product from payer and reimbursement input into clinical development, early health economics and outcomes research and pricing activities alongside clinical trials and regulatory processes, the preparation of reimbursement submissions, the navigation of pricing and reimbursement procedures, input into clinical guidelines, market access and competitive pipeline and portfolio reviews, training and strategic consultancy.

Athena Market Access Solutions Ltd. is co‐organiser of the 'Kendal Collaboration', a group of small businesses and independent professionals with expertise in all aspects of health economics and outcomes research.

Athena's customers include biotechnology companies, pharmaceutical companies, as well as a consultancies.
IDACO Consulting Ltd
Strategic pharmaceutical and pre-clinical consulting services. Critical due diligence, rationalisation and evaluation of IP portfolios, academic research and early-stage/preclinical projects - ultimately looking to de-risk and increase commercial attractiveness and licensing potential.
Advising and supporting academic institutions and start-up companies on out-sourcing strategies - looking for cost-effective solutions and accelerating the speed of progression and completion of projects.
Oversight and management of outsourced CMC and preclinical projects.
Undertaking due diligences on behalf of organisations in- and out-licencing development drug candidates.
Exploring innovative business models and opportunities for funding between academia and the out-sourcing network, looking to create collaborative win-win partnerships to progress projects.
Attending conferences and exhibitions on behalf of clients, evaluating new product opportunities and service providers.
Source: LinkedIn