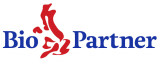 BioPartner UK
BioPartner UK leads the UK Delegation to several partnering conferences
each year. It is a UK Accredited Trade Organisation facilitating international partnering for trade, investment and collaborations with Life Sciences organisations across the UK. BioPartner is a membership organisation, supporting UK SMEs and startups, and signposting organisations worldwide to UK expertise.
BioPartner has alliances with organisers of international biopartnering events, and with UK membership organisations, operating both independently and
in partnership with the UK government. BioPartner disseminates tradeshow access grants to help UK-based SMEs exhibit their services and products in new overseas markets.

Embassy Event Services (part of the Embasssy Freight Group)
Embassy Event Services ( as part of the Embassy Freight Group) are 100% committed to supporting all UK based Lifescience companies ( and BioPartner UK) in making all event logistics as simple, reliable , and cost effective as possible, with this in mind, we offer all BioPartner UK members personalised event logistic services and discounted freight costs. We are proud to be part of the BioPartner UK family and will continue to support UK Life science and the BioPartner UK membership on all their event logistic requirements – from shipping to stand building to customs formalities – nothing is left to chance!
We make it our business to deliver on our commitments with honesty and responsibility - we have an established event team providing a personal, dedicated service backed up by an advanced and flexible I.T. infrastructure. For the diverse requirements of our clients - our philosophy remains the same: to understand the clients needs, to accept the challenge given, and to deliver a first class service to all clients For further information contact – eventservices@embassyfreight.co.uk