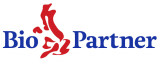 BioPartner UK
BioPartner UK leads the UK Delegation to several partnering conferences
each year. It is a UK Accredited Trade Organisation facilitating international partnering for trade, investment and collaborations with Life Sciences organisations across the UK. BioPartner is a membership organisation, supporting UK SMEs and startups, and signposting organisations worldwide to UK expertise.
BioPartner has alliances with organisers of international biopartnering events, and with UK membership organisations, operating both independently and
in partnership with the UK government. BioPartner disseminates tradeshow access grants to help UK-based SMEs exhibit their services and products in new overseas markets.

Embassy Freight Services
Established in 1994, Embassy Freight Services are a Global Logistics company operating from forty-five offices worldwide with three offices in the UK - Basildon, Heathrow and Manchester. We are a progressive company that looks to provide innovative solutions that ensure our customers' supply chains are a competitive advantage.

We make it our business to deliver on our commitments with honesty and responsibility so that we can be relied upon. To fulfil such commitments we established a team of staff providing a personal, dedicated service backed up by an advanced and flexible I.T. infrastructure. For the diverse requirements of our clients our philosophy remains the same: to understand the clients business needs, to accept the challenge to deliver, manage the risks to cargo and protect the commercial transaction.